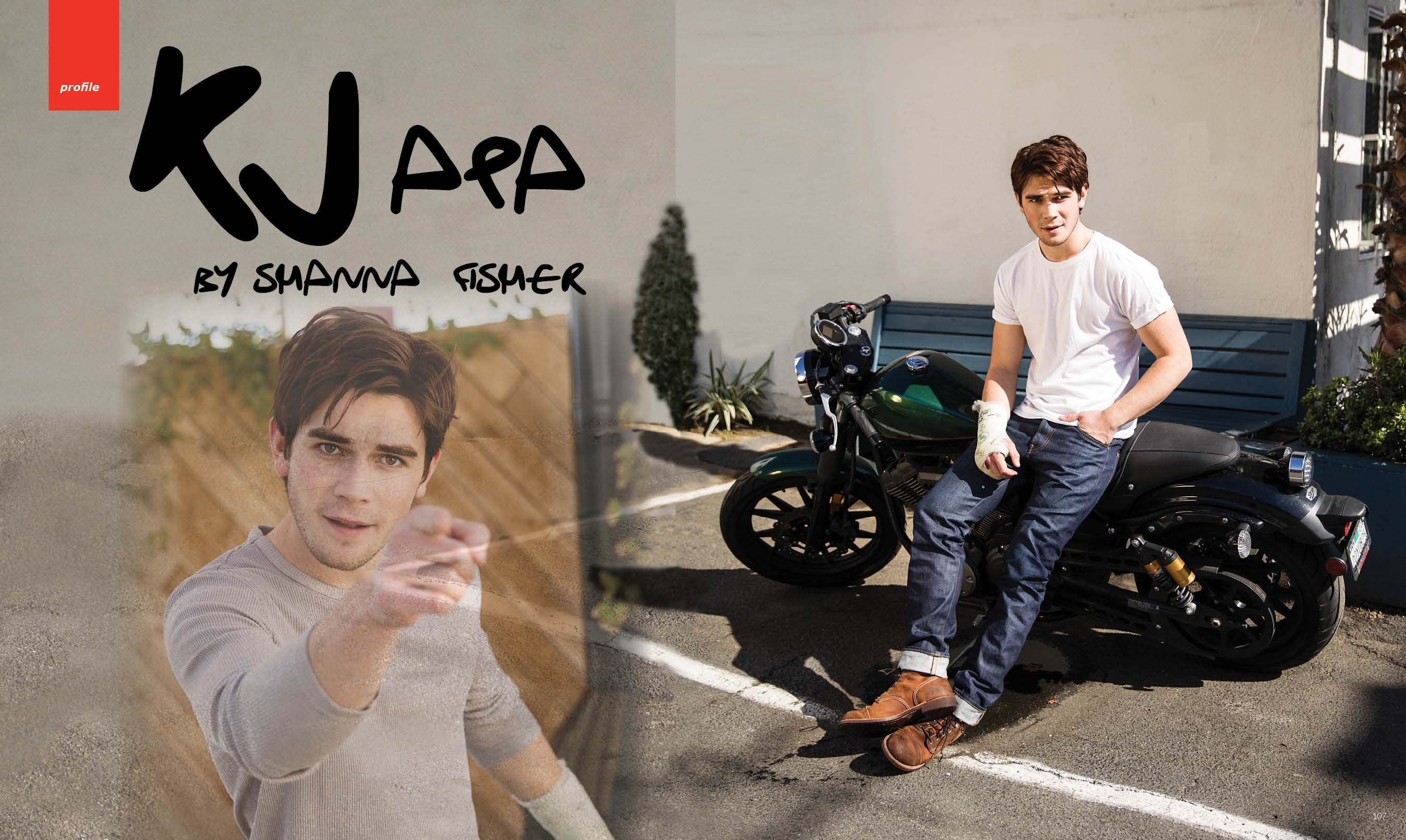 KJ Apa
Photography by Shanna Fisher
For those who read the Archie comics, there's a strong character impression of him as a teenage oblivious goofball. What was your process in reinterpreting him for a more dramatic role?
Well he's still oblivious about a lot of things, but not really a goofball. The character is very different to the comics. My process is to read the scripts and get a good feel of how my character relates to his friends and family etc. Those relationships help to develop the character for me.
 
In the Archie comics, there was sexuality but not a lot of contact. What is it like to be a version of Archie that gets to be shirtless that actually kisses the girls and hook up with older women?
The luckier version I guess. [laughs]
Luke Perry, who plays your dad on the show, was a huge teen heartthrob in the 90s. Has he given you any advice on how to navigate stardom? What have you learned from him?  
Luke is an amazing mentor. He has helped and guided me in more ways than I can fully explain. He's the man!
What are some misconceptions that some people may have about the show, and what would like for them discover?
Maybe that the show is a mirror of the comics—but it's not. It's a 2017 version, so it's very relatable with some of the issues that are faced. But it also has the drama of issues that are kind of completely offbeat.
 
Being from New Zealand and working on this show, what are your impressions of the teenage American experience? Also, how do you think this relates to how it was portrayed in the Archie comics?
School in New Zealand is very different. I went to a boys only school for 11 years so my experience was very different. I didn't have a huge social life—I think that's the main difference. The comics have all the relationship interplays that have continued in our show.
 
What was it like having Lorde apologize to you? Did you end up having tea with her? What was that like? If you didn't, what would be your ideal hang out session with her?
Hahahahahha no we didn't have tea. I think we're both too busy for that.
. 
You recently took a road trip from Vancouver to Los Angeles. What was it like to get that kind of exposure to the United States? What were some of your favorite moments exploring the country with your co-star Cole Sprouse? Did anything crazy happen?
I am in awe of the beauty of this country. Cole has really opened my eyes to how epic the landscapes are.
 
Being that you got so much exposure to so many States in this country, what's your impression of what happened with the election?
I don't understand American politics. It's very different in New Zealand.
 
In real life who would you choose Betty or Veronica?
Jughead.
[clothing KJ's own]
photography by Shanna Fisher
stylist Alison Brooks
groomer Simone
location Hotel Covell california